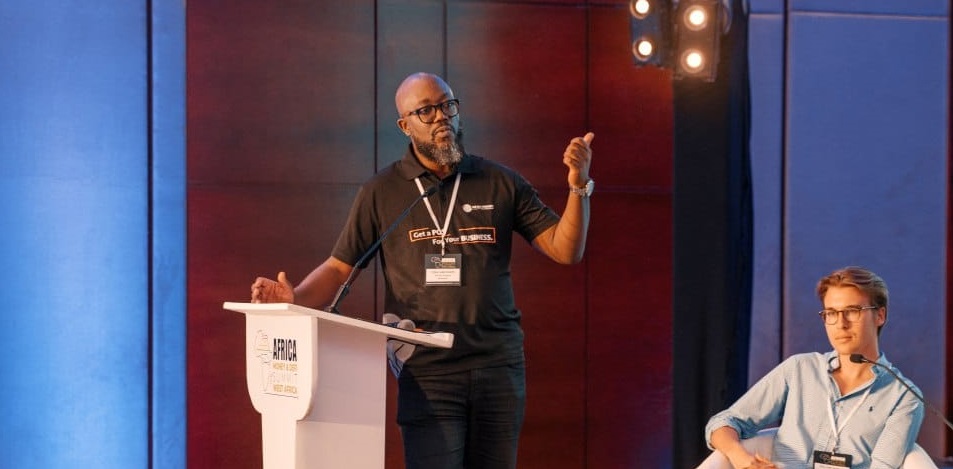 Source: Tom Jackson/ Disrupt Africa
Describing itself as the "Square for Africa", in reference to Twitter founder Jack Dorsey's renowned payments platform, Ghanaian startup Blu Penguin provides an in-store PoS system for merchants so they can accept money from all channels on a single app.
In Africa, over 85 per cent of commerce still happens in-stores between customers and attendants. Blu Penguin is enabling small and medium sized businesses to securely collect payments in-store from customers with a reporting dashboard for reconciliation and reporting.
The startup was founded by managing director Tenu Awoonor in 2018 after he returned to Ghana from Nigeria, where he had been working as a telecom executive. 
Stay well-informed and be the very first to receive all the most recent updates directly in your email! Tap here to join now for free!
"In Africa, cash is still king, and most businesses were not accepting electronic payments for in-store payments, even though they all used mobile money personally," he told Disrupt Africa.
"We noticed that mobile money had caught on in Ghana so we integrated momo and card payments onto a single app for a PoS or smartphone connected to all providers so a merchant never misses a sale."
The BluPay app developed by the startup enables merchants to accept payments via card, mobile money, or QR code, all managed from the same device. Very simple, and very popular. Since launch, Blu Penguin has had more than three million unique users transact on its platform – more than 10 per cent of the Ghanaian population.
"We have the largest footprint of merchants in the country using BluPay to accept payments in their stores. Customers now actively ask merchants to send the BluPay prompt when completing a sale, something we never envisioned happening when we first started," said Awoonor.
All the more impressive is the fact all of this has been achieved while bootstrapping, with no external funding taken on board and Blu Penguin sustainable via its own revenues. The startup charges a small fee for every transaction, which differs by payment type, and also receives licensing fees from banks.
"We have been profitable for few years and have been reinvesting back into the business to fund our growth," said Awoonor.
Now, Blu Penguin is beginning to expand across the continent.
"We are presently setting up in two other African markets, and anticipate going to market by Q1 2024. The same problems we are solving here in Ghana for small and medium sized businesses exist everywhere across Africa," he said.
Stay well-informed and be the very first to receive all the most recent updates directly in your email! Tap here to join now for free!
Source: Tom Jackson/ Disrupt Africa