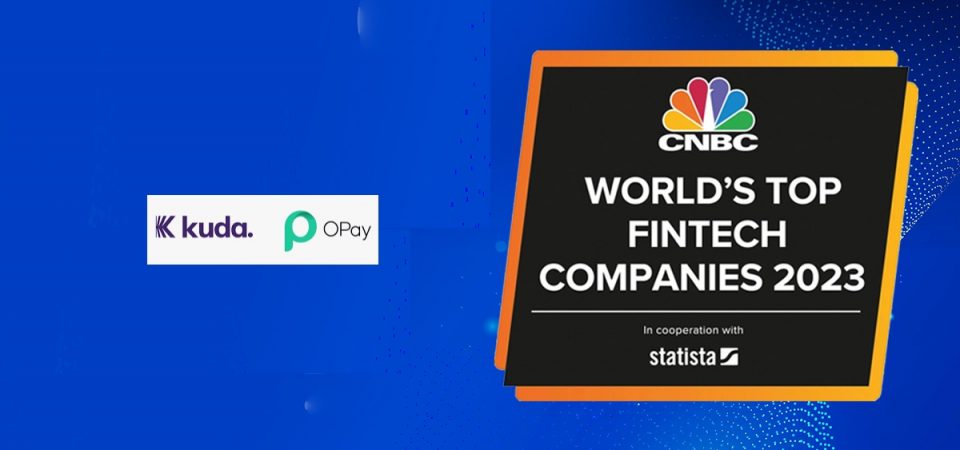 Source: Ojukwu Emmanuel/ Tekedia
Two Nigerian fintech startups, Opay and Kuda, made a debut on CNBC's list of top 200 global fintech companies. Together, CNBC and independent market research firm, Statista, partnered to compile a comprehensive list of companies building innovative, tech-enabled, and finance-related products and services.
Both companies collaborated to list out the top fintech companies, using a clearly defined methodology identifying how various companies performed against a set of key performance indicators, including the total number of users, volumes, and revenues.
To help with the research, CNBC issued a public call for nominations in March, giving eligible fintech the chance to share more information on their business model, revenue, transaction volumes, and other key data.
Statista developed a scoring model for the companies by calculating the aggregated scores on how firms performed versus their respective KPIs revenues and revenue per employee. For example, along with a separate score on how the companies performed against specific KPIs within their respective market segments.
Between five and 40 companies were selected for each market FI segment. To decide which ones should make the cut, Statista broke down the scoring model into a 40% weighting for general KPIs, and 60% for segment-specific KPIs.
The companies with the highest score within their market segment made the list, and the number of companies awarded per market segment varied depending on the size of the respective market segment.
The selected companies were classified into nine categories which include: Neobanking, Digital Payments, Digital Assets, Digital financial planning, Digital Wealth Management, Alternate Financing, Alternate Lending, Digital banking solutions, and digital business solutions.
Nigerian Fintech company that offers mobile banking services, Kuda debuted in the Neobanking category, alongside several other Fintech companies.
Founded in 2019, Kuda allows users to manage their finances, make payments, save money, and perform various banking activities through a mobile app. The company's goal is to provide easy and accessible banking services to individuals who might not have access to traditional banking or prefer digital solutions.
This startup cemented its status as the seventh most valuable bank within Nigeria's financial landscape. Distinguishing itself as a licensed microfinance bank, Kuda empowers its user base by facilitating seamless, fee-free savings.
The all-in-one business app seamlessly amalgamates savings, payment, and credit services, catering to both retail and business clientele.
Kuda services include features such as;
Mobile Banking: Users can open an account, receive a debit card, and perform transactions directly from the Kuda mobile app.
Budgeting and Spending Insight: The app provides tools to track spending, set budgets, and manage personal finances.
Instant Notifications: Users receive real-time notifications for their transactions, helping them stay aware of their financial activities.
No Fees: Kuda's model includes no monthly fees or charges for basic banking services.
Saving: The app supports savings goals, allowing users to set aside funds for specific purposes.
Security: Kuda uses security features such as biometric authentication and encryption to protect user data and transactions.
In July 2023, the Fintech company celebrated a significant milestone after surpassing six million customers within Nigeria, just 4 years after its launch.
With its innovative approach and unwavering commitment to customer-centric solutions, this Nigerian fintech company continues to redefine the contours of the fintech landscape.
Also, Nigerian one-stop mobile-based platform for payments, transfers, loans, savings, and other essential services, Opay, debuted on CNBC's digital payments category.
Founded in 2018, Opay aims to provide users with a convenient and integrated platform for various financial activities and services. The startup currently boasts over 35+ million registered app users and 500,000 agents in Nigeria.
Aiming to bridge the financial gap in Nigeria, Opay has strategically positioned itself as a pivotal conduit for fostering financial inclusion in the country and across the continent.
Some of the services and features offered by OPay include:
Mobile Money Transfer: Users can send and receive money to and from others within Nigeria using the app.
Bill Payment: OPay allows users to pay bills such as utilities, airtime, cable TV subscriptions, and more directly through the app.
Ride-Hailing and Delivery: The app offers ride-hailing and delivery services through its partnership with companies like Ride and Express, allowing users to request rides and order deliveries.
E-commerce: OPay also provides a platform for users to stop for products online, making it a sort of digital marketplace.
Investment Opportunities: Some versions of the app include features that allow users to invest in certain financial products.
Loan Services: OPay offers access to microloans and personal loans through its app, which can be beneficial for users looking for short-term financial assistance.
With a passionate team, a sophisticated mobile platform, and a fast-growing community of users, Opay is making financial services more efficient for millions of users, and it starts with the ability to pay and have access to the right opportunities at the right time.
On a global scale, the digital payments industry is currently estimated to be worth over $54 trillion, according to data from JP Morgan, and that is only set to grow as more of the world starts to see digital adoption.
Source: Ojukwu Emmanuel/ Tekedia