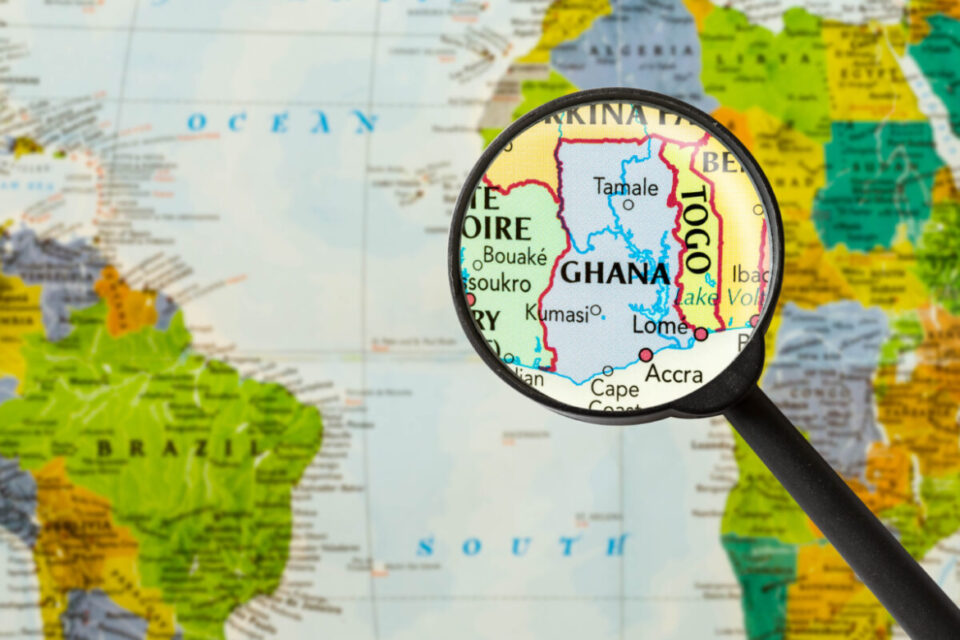 In the latest analysis of countries across the Middle East and Africa (MEA), we take a look at the West-African country of Ghana to uncover its recent developments in fintech.
It is estimated that Ghana's unbanked population remains to be under 60 per cent, presenting an opportunity for the generally low-middle income economy of Ghana, in particular with mobile money and telecommunications companies.
The Bank of Ghana last year published the circular A Summary of Economic and Financial Data, highlighting that the number of active mobile money accounts grew to 17.5 million last February (compared to a year prior in 2020 at 14.7 million. The circular highlighted the growth of active mobile money agents in the same period to 465,000 (compared to 235,000 the previous year).
Like in much of other parts of Africa, Ghana's fintech can be most visible to the public with respect to the popularity of mobile devices and mobile money specifically. The Bank of Ghana also reports that in 2021, there were 40.9 million registered mobile money accounts and 17.5 million active accounts (note in 2021 Ghana's population according to the UN was just over 31 million people).
Ghana has been one of the world's fastest growing and significant markets for mobile money.
In 2020, during the height of the pandemic, mobile money in Ghana further grew in popularity. The Bank of Ghana introduced regulations to facilitate onboarding of micro and small medium enterprises (MSMEs) merchants that may not meet the threshold for know-your-customer (KYC) requirements that were set out in the Payment Systems and Settlement Act.
Much of the recent digital transformation stems from the top via the government's own economic development diversification and push towards a digital economy. It first had its own national strategy titled Ghana Vision 2020 and with regards to digital, much of the development to promote the ecosystem stems from Ghana Digital Agenda.
Ghana's fintech landscape is estimated to have around 100 fintechs. It is dominated by wider payment solutions (especially as highlighted earlier with the popularity of mobile money). Beyond payments providers, other fintech subsectors that have been active in the ecosystem include insurance, pensions, blockchain, security trading and assets management, agriculture, buy now, pay later (BNPL), loans and property.
Exciting announcements this year include the National Insurance Commission implementing the Innolab Insurtech Accelerator Programme to innovate insurance products and services. Financed by the German Agency for International Cooperation (GIZ), Financial Sector Deepening Africa (FDSAfrica) and UKaid, the programme seeks to stimulate innovative digital insurance product solutions to drive inclusive insurance for MSMEs and the public. As a whole, most of Africa's insurance penetration is very low which also includes Ghana.
In April, the World Bank approved $200million to help Ghana's government increase access to broadband, enhance the efficiency and quality of selected digital public services, and strengthen the digital innovation ecosystem in the country to help create better jobs and economic opportunities.
Digital is one of Ghana's best-performing sectors. During 2014 to 2020 the sector grew on average shy of 20 per cent (19). The funding will help aim to remove key bottlenecks that can help further accelerate Ghana's digital transformation, as it is a key digital leader in Sub-Saharan Africa.
Earlier this year, controversially, Ghana's parliament passed a 'fintech tax' which placed a 1.5 per cent tax on digital financial services, known as e-levy. This led Ghana, alongside the likes of Zimbabwe, to have one of the steepest taxes on fintech compared to its other African neighbours who generally have restricted them on mobile money for instance.
Finally, in June, Ghana Interbank Payment and Settlement Systems (GhIPSS) introduced the launch of the bank-wide GhanaPay mobile wallet to encourage the rise of the country's cashless and financially-inclusive ecosystem. The mobile money service is launched as an open application and offered universally across all the country's incumbent and rural banks, including various savings and loan companies.
Bank of Ghana governor Dr. Ernest Addison said: "Ghana's progress in migrating to electronic payments has been laudable. In less than a decade, GhIPSS Instant Pay transactions valued at GH¢420,000 ($52,755). In 2016 surged exponentially to GH¢31.4billion ($3.94 billion) in 2021. In tandem, both the value of mobile money transactions and registered mobile money agents also increased thirteen and four-folds, respectively in 2021."
Ghana's use of cash also is diminishing. According to Dr. Addison, 'another key development was that Ghana's cash usage measured by currency in circulation as a ratio of gross domestic product (GDP) declined from 6.8 per cent in 2016 to 4.7 per cent last year. In addition, Ghana's cheque usage per capita, which was 25.67 in 2016, declined to 18.9 last year."
Investments in the wider ecosystem can be seen in the private sector, such as Africa Data Centres, part of the Cassava Technologies Group. The pan-African technology group, announced this year that it is building a 30MW data centre facility in Accra, Ghana. The new facility will lay the groundwork for the company's hyper-scale partners to expand digital services and solutions to more countries in West Africa and will make Africa Data Centres the largest provider in West Africa, with facilities in Nigeria, Togo and now Ghana. This complements other fintech specific announcements such as the Bank of Ghana announcing a fintech.
Finally, the Bank of Ghana also launched an innovation and regulatory sandbox to help evaluate solutions in pursuit of its financial inclusivity goals. It is understood that it also might be in the final stages of its E-cedi (Ghana's digital currency project).
In summary, Ghana presents a unique opportunity for its growing economy, digital and fintech space.
Source: Richie Santosdiaz/TheFintech Times