Source: The Guardian
Elon Musk is to auction Twitter memorabilia from its San Francisco headquarters following the social media platform's switch to the name X, including its former bird logo from the side of the building.
The billionaire rebranded the site late last month with a new logo, an X, replacing its distinctive bird symbol. On announcing the move, Musk tweeted: "And soon we shall bid adieu to the Twitter brand and, gradually, all the birds."
The rebranded platform has listed 584 lots on offer that include old Twitter signs from around its offices in California, a wooden Twitter bird table, outsized bird cages and paintings.
The well-known bird logo that is still mounted on the company's headquarters has also been put on offer. The listing reads: "Bird is still mounted on the side of the building. Buyer is responsible for hiring an SF Licensed Company with appropriate Permits."
The auction, titled "Twitter Rebranding: Online Auction Featuring Memorabilia, Art, Office Assets & More!", also has two oil paintings of well-known images in popular culture that went viral on the platform.
The first is Ellen DeGeneres's selfie with stars including Bradley Cooper, Meryl Streep and Lupita Nyong'o, which was taken at the 2014 Oscars. The photo garnered more than a million retweets within an hour.
The second is a photo that Barack Obama tweeted after winning another term as US president in 2012. The photo shows him hugging his wife, Michelle, and it became the platform's most retweeted photo ever at the time.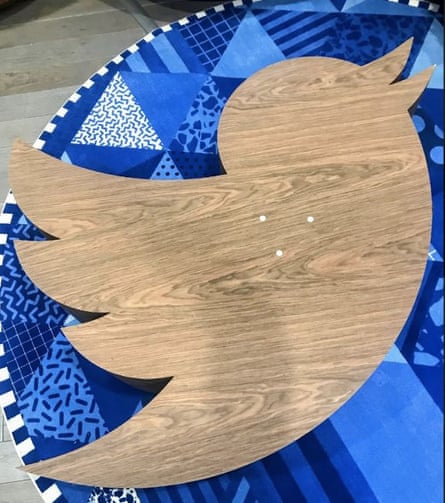 According to the auction house Heritage Global Partners, the minimum offer for each lot is $25. The bidding will start on 12 September and end on 14 September.
There are also keyboards, fridges, lockers and bird art among the offers in the auction.
Earlier this year, Musk held an unprecedented auction for more than 600 items including furniture and items from the San Francisco headquarters. A Twitter bird statue went for $100,000, while a 10ft tall neon digital sign showing the former bird logo was sold for $40,000.
Both auctions come after the Tesla billionaire had made significant job cuts. By November, X had laid off half of its 7,500-employee global workforce.
Last month, Musk said that cashflow was still negative after a 50% drop in ad revenue and a heavy debt load.
"Need to reach positive cashflow before we have the luxury of anything else," Musk said in a tweet replying to suggestions the business should recapitalise.
The negative falls short of his expectation in March that Twitter could be positive by June. Musk bought Twitter for $44bn last year.
Source: The Guardian