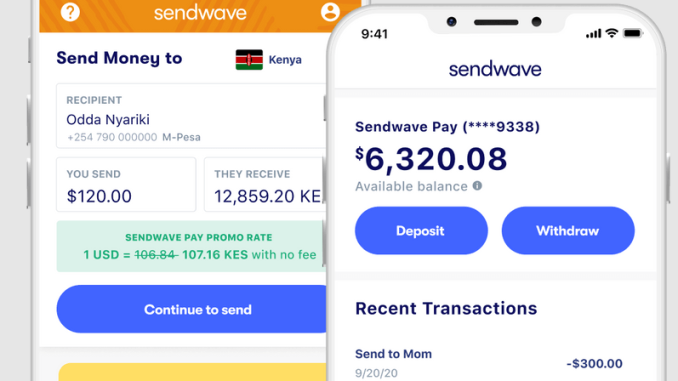 A new product, Sendwave Pay, has recently been launched by Sendwave, a digital remittance company.
The new product provides Kenyans living in the US an opportunity to earn interest and pay reduced fees on international remittances. This will be done by giving existing Sendwave users access to a FDIC-insured bank account with an accompanying debit card. This makes Sendwave one of the only major remittance providers with such an offering in the US.
According to a report, Sendwave Pay, which is available to users via the Sendwave app on iOS and Android, has the following features:
A Sendwave Pay debit card to use on every day transactions;
A bank account with no hidden account creation, maintenance, or minimum balance fees;
Earn up to 0.51% APY on the money held in their Sendwave Pay account;
Reimbursements for international transaction fees when using their Sendwave Pay debit card outside of the US;
Access to up to 0.4% improvement on exchange rates and up to 25% savings on transaction fees on remittances to Kenya, Ghana, Tanzania, Uganda, Nigeria, and Liberia when using the funds in their accounts.
For migrants, opening a bank account is considered an important step to establishing themselves and helps to achieve financial autonomy. Sendwave Pay is one of the first neobanks offering within Zepz, the Group powering global remittance brands Sendwave and WorldRemit. Zepz intends to continually invest in migrant-focused financial offerings around the world, including Kenya.
Officials from Zepz said the way that people use and access money has drastically changed since 2013. They created Sendwave Pay to better meet the needs of our customers, who are dynamically considering how they manage their money both for themselves and for loved ones abroad.
Zepz's launch of Sendwave Pay comes amid an economic slowdown and higher borrowing costs in the US, which is one of the leading sources of remittances to Kenya. Kenyans living in the US sent a total of USD 2.33 billion back home in 2022, representing more than half of the total USD 4.02 billion of diaspora remittances in 2022, according to data from the Central Bank of Kenya.