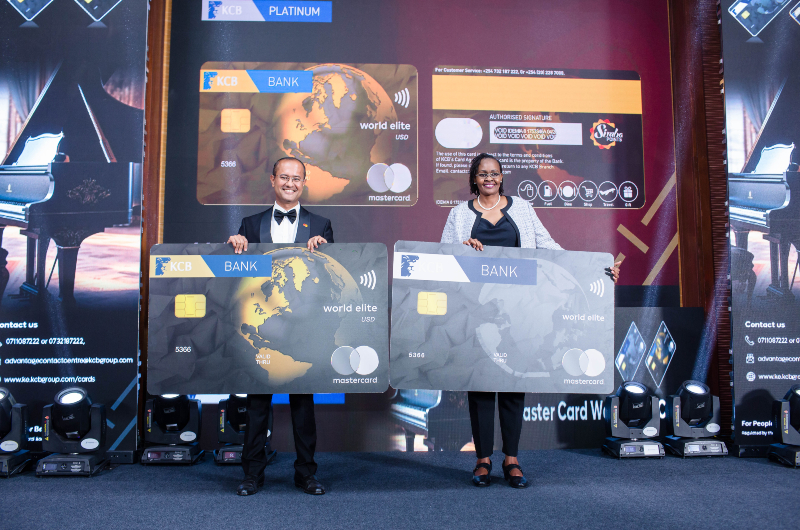 Source:  Diana Mutheu/ Techmoran
KCB Bank Kenya has joined forces with the global payments technology company, Mastercard, to introduce the World Elite Exclusive Credit Card.
This card is designed to provide high-end and private banking customers with a range of unique benefits, privileges, and experiences that are not available in the market.
This collaboration signifies a significant milestone for the bank, as it represents a strong move toward creating a top-tier offering for its high net-worth clientele.
Stay well-informed and be the very first to receive all the most recent updates directly in your email! Tap here to join now for free!
The Mastercard-branded cards will be offered in two categories: World Elite KES Credit, tailored for high-net-worth individuals who prefer transactions in Kenyan Shillings (KES), and World Elite USD Credit, designed for those engaging in frequent international transactions in United States Dollars (USD).
Additionally, the bank has introduced the World Debit card, which offers exclusive benefits and privileges, ensuring a personalized and tailored banking experience.
Managing Director of KCB Bank Kenya, Annastacia Kimtai emphasized the bank's dedication to innovation and enhancing the cashless economy, setting new standards of excellence to meet the sophisticated needs of their discerning clients.
"The Exclusive World Elite card will provide numerous advantages, including accelerated rewards, a 24/7 concierge team for travel assistance, travel perks like airport lounge access, and special treatment at partner hotels worldwide. Cardholders will also gain exclusive access to prestigious golf clubs and tournaments globally and receive personalized financial advice and support from a dedicated relationship manager."
Senior Vice President and Country Manager for East Africa and Indian Ocean Islands at Mastercard, Shehryar Ali expressed enthusiasm about the partnership and its potential to offer unmatched financial solutions to Kenyan customers.
"This collaboration combines Mastercard's global expertise with KCB Bank's local market knowledge to deliver an exceptional banking experience."
The World Elite Credit Cards come with increased daily and per transaction limits to enhance the user experience and prevent any inconveniences for clients.
By partnering with Mastercard, a globally renowned leader in payment solutions, KCB strengthens its position in the market and reaffirms its commitment to providing world-class financial services that reward customer loyalty.
This initiative aligns with the latest research, which indicates that Kenya's cards and payments market volume reached $49.5 million in 2022 and is projected to achieve a Compound Annual Growth Rate (CAGR) exceeding 17% by 2026.
The launch of digital-only banks and the deployment of mobile POS terminals are expected to drive the growth of card-based payments in the future.
Stay well-informed and be the very first to receive all the most recent updates directly in your email! Tap here to join now for free!
Source:  Diana Mutheu/ Techmoran