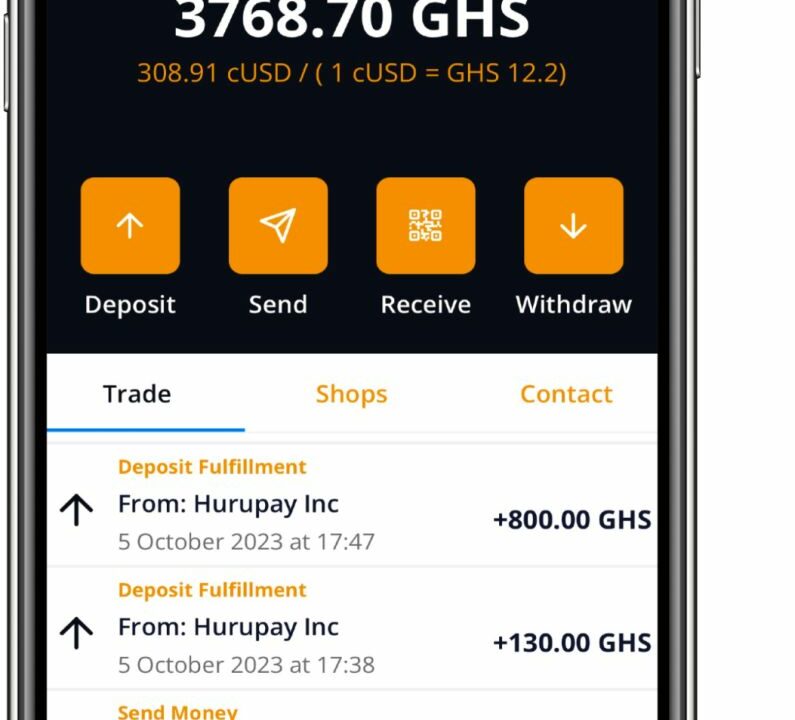 Source: Tom Jackson/ Disrupt Africa
Ghanaian startup Hurupay is helping businesses and individuals across Africa overcome the negative impacts of fluctuating local currencies by allowing them to make and receive stablecoin-based payments.
Formed earlier this year, Hurupay is a crypto wallet that enables users to access stablecoins, which are non-volatile cryptocurrencies pegged to the value of the US dollar at a ratio of 1:1. The platform is designed to help SMEs and individuals mitigate the negative impacts of depreciating local currencies against the dollar on their income and growth, by providing a more stable and reliable payment method.
Businesses can accept stablecoin payments from customers simply by scanning QR codes, and pay suppliers with zero fees. Individuals can save money in dollars and stablecoins, send and receive money across borders with very low fees, and pay at shops.
Stay well-informed and be the very first to receive all the most recent updates directly in your email! Tap here to join now for free!
The idea for the platform came to co-founder and CEO Philip Mburu, a Kenyan, when he relocated to Ghana in September 2021.
"I had a very big challenge sending or receiving money as a migrant. There were few to no options to transact money across borders, and those that existed charged a very high fee of up to eight per cent for a transaction that would still take up to three days to process. At the same time, the value of the Ghanaian cedi was constantly depreciating, affecting the savings I had in Ghana," he told Disrupt Africa.
He began researching alternative ways of sending and receiving money, and of keeping his savings in a more stable currency such as the US dollar.
"With prior knowledge about crypto, I invested more time into it, researching how cryptocurrencies are borderless by nature, and how others like stablecoins offer easier access to dollars," he said.
At around this time, Mburu met James Mugambi – now Hurupay's COO – who was working as an entrepreneur-in-residence at the Pangea accelerator in Kenya, and then met Allan Okoth – now CTO – when they both took part in the Sankore Academy blockchain coding camp. The three began working on the idea, formally launching the business in February. Mburu explains the scale of the problem they are trying to solve.
"In Africa there are more than 44 million SMEs providing employment to more than 80 per cent of the population. A majority of these SMEs rely on local currencies such as Ghana cedis or Kenyan shillings for payments, but these currencies often depreciate in value against more stable currencies like the US dollar, leading to financial uncertainty and insecurity for SMEs," he said.
"Moreover, a majority of crypto wallets operating in Africa are consumer-focused, and do not cater to businesses to allow them to process stablecoin payments from customers. Hurupay is taking a different path of onboarding SMES into crypto with stablecoins by allowing them to easily collect payments from their customers or make cross-border payments to their suppliers."
He said the demand for stablecoins in Africa is on the rise.
"This is due to their unique nature of offering easier access to dollars as well as offering cheap and instant transactions even across borders. Growth at Hurupay has been incredible. Within two months of officially going live in Ghana, Kenya, and Nigeria, we have onboarded over 1,500 active users and processed transactions worth over US$100,000," said Mburu.
Currently, Hurupay is running on a US$21,000 grant it received from Prezenti Grants in partnership with Celo blockchain foundation as a builder on the Celo blockchain. The startup monetises via a two per cent fee charged on off-ramping, as well as a 0.5 per cent fee on payments to SMEs.
"We are in the process of integrating Visa and Mastercard to allow people living in North America and Europe to deposit on Hurupay and from there send money to families and friends in Africa instantly," Mburu said.
"By the end of this year, we hope to expand to Rwanda, Tanzania, and Uganda, before adding 10 more countries come 2024."
Stay well-informed and be the very first to receive all the most recent updates directly in your email! Tap here to join now for free!
Source: Tom Jackson/ Disrupt Africa