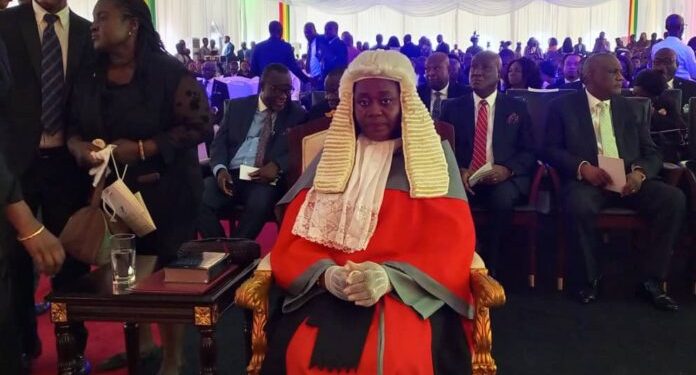 Source: Kobina Welsing/ Citi Newsroom
The newly sworn-in Chief Justice, Gertrude Torkornoo, has made a commitment to leverage technology to improve the efficiency of the Judiciary.
Despite efforts made in the past two decades to automate court operations, only 62 percent of courts currently utilize computers as part of their workflow.
Justice Torkornoo during her inaugural address after her swearing-in ceremony at the Jubilee House on Monday, stressed the need to acquire electronic devices for capturing court records and establish a networked infrastructure among registries and stakeholders to enable the next level of automation.
"Two decades since tackling the issue of automation, only 62 percent of courts use computers as part of their work. Computerization is only the first process of the automation of court processes. After acquiring electronic devices to capture records of court processes, the registry, and offices of stakeholders must be networked in other to allow for the next level of automation.
"This is a national burden and we are slowed by any sluggishness in the nation's digitalization drive. Currently, our records show that only 26 percent of courts are networked and only 12 percent of courts have been brought into the bracket of full automation in the operation through the digitalization of their processes," Justice Torkornoo said during her Swearing-in on Monday, June 12.
Justice Gertrude Torkornoo assumes the role of Chief Justice following the retirement of Justice Kwesi Anin Yeboah in May.
Her appointment was approved by Parliament on Wednesday, June 7.
President Akufo-Addo, who appointed Torkornoo as the country's new Chief Justice, expressed confidence in her leadership abilities.
Speaking at the swearing-in ceremony, President Akufo-Addo highlighted Torkornoo's qualifications and distinguished years of service in the judiciary, stating that she possesses the qualities necessary to inspire public confidence in the judicial system.
"The choice of Justice Gertrude Torkornoo as the 15th Chief Justice was not a particularly difficult one to make in view of her level of qualification, the number of years spent with distinction at the bench, and the superior court of judicature."
Justice Gertrude Torkornoo is President Akufo-Addo's third appointment to the Office of Chief Justice since assuming office in January 2017.
Source: Kobina Welsing/ Citi Newsroom