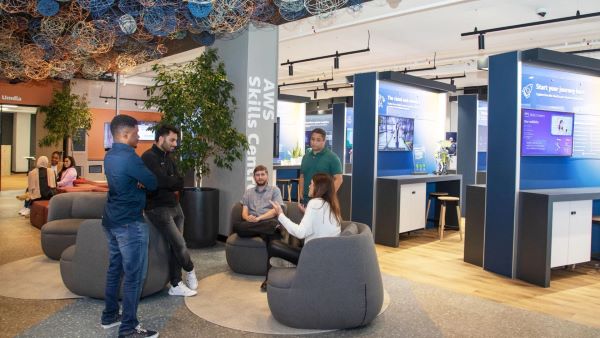 Source: Johnstone Kpilaakaa/Benjamindada.com
Organizations identify skills gaps (60% of respondents) and an inability to attract talent (53%) as the key barriers preventing industry transformation, according to 2023 World Economic Forum "Future of Jobs" report.
Over 75% of these organizations plan to adopt technologies such as big data, cloud computing, and artificial intelligence in the next five years—driving a surge in demand for individuals with these skills and creating approximately 2.6 million new jobs by 2027.
To meet this demand, Amazon Web Services (AWS) has launched its first Skills Centre outside of the United States, in Cape Town, South Africa. This is the company's third centre globally.
"AWS is committed to removing barriers for people to access the skills training they need to grow their careers," said Maureen Lonergan, Vice President, AWS Training and Certification. "The Cape Town region is ripe with talent, and upskilling the workforce can play a key role in driving innovation, catalysing economic growth, and accelerating digital transformation across South Africa.
The new Cape Town facility is specifically designed to expand workforce development programs and transformation strategies in the local community. One of the primary objectives is to level the playing field through free education initiatives for nontechnical workers, helping to meet the growing need for skilled cloud talent.
The Skills Centre will provide an in-person learning space for anyone in the local community—regardless of background, education level, or social status—AWS says it intends to create a diverse pipeline of entry-level cloud talent across the region.
Since 2017, AWS has trained more than 100,000 people in South Africa on cloud skills, via free and paid training. Last year, AWS expanded its AWS re/Start programme to six African countries, including Africa, Ghana, Nigeria, Kenya, Senegal and Rwanda, to deliver more free training and skills development for those interested in entering careers in cloud computing.
In addition to supporting the South African community, AWS Skills Center Cape Town is helping to fulfil Amazon's goal of providing free digital skills training to 29 million people around the globe by 2025.
Learn more about the AWS Skills Centre Cape Town—including hours of operation and a calendar of events. "We look forward to working with AWS to bring powerful training resources to the citizens of South Africa. By investing in our people and their future, we are also investing in South Africa's future and advancing our stature in the global economy," says Alan Winde, Premier of Western Cape.
AWS' historical roots in Cape Town, South Africa
According to reports, South African and former Amazon vice president, Chris Pinkham first pitched the idea of a cloud computing business to his boss Jeff Bezos in 2003. This gave birth to AWS, which is arguably the most profitable unit in Amazon.
Pinkham moved back to Cape Town from the US in the early 2000s and started building key products for AWS, alongside a team in Cape Town which included Willem van Biljon, who later became Takealot's CEO.
This team launched a local AWS business which was (and is still used) by some of South Africa's largest companies, including Absa, Investec, Standard Bank, Old Mutual and Pick n Pay.
In 2010, Amazon launched its customer service centre in Cape Town, to serve shoppers and also create jobs. Ten years later, the company opened its first infrastructure region in Africa, with the establishment of the AWS data centre location in Cape Town.
The company has also been working on constructing its African regional office in Cape Town but it has been stalled by legal battles from indigenous people—Khoi and San—who claim that the US company is defiling sacred land. Earlier this year, the South African Supreme Court of Appeal declined to grant permission to appeal a Western Cape High Court ruling dismissing an interdict against the River Club development—contractors of the Amazon construction—in Cape Town.