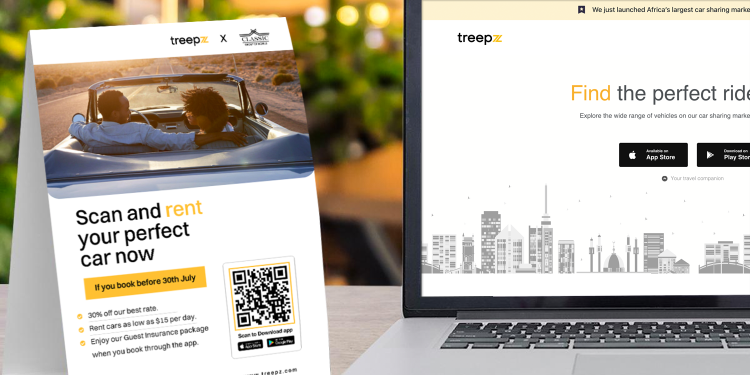 Source: Techbuild.Africa
Treepz, Africa's top car-sharing and rental marketplace, is thrilled to introduce its Partner Program tailored specifically for travel agencies, event hosts, planners and players within the hospitality industry.
Collaboration among all stakeholders in the travel industry, covering flights, hotels, ground transportation, and related services, is vital.
Meeting the need for reliable and convenient ground transportation is a significant priority for both business travelers and tourists on the continent, whether they require transportation from airports, hotels, or event venues.
By leveraging its extensive on-demand rental fleet network, Treepz aims to empower travel and tour agencies, event hosts, and destination management companies to elevate their customers' experience.
The on-demand rental Fleet Network enables companies to:
Book a car for their customers from an extensive list of car selections.
Include car rental as a service in their offerings.
Secure a discount of up to 10% on every rental.
Provide rental insurance for every trip at no additional cost.
Create a customised rental package using custom locations, discount codes, and pricing.
Market their offerings to Treepz's extensive guest community.
This partnership program opens up new avenues for collaboration, revenue generation, and enhanced services for customers across Nigeria, Ghana, Kenya, and Uganda.
Treepz's CEO, Onyeka Akumah, states that this new program "opens up new revenue streams for travel and hospitality players and is a testament to our commitment to investing in the overall growth of the travel ecosystem using technology."
On May 3, 2023, Treepz rebranded its consumer app to focus solely on car-sharing allowing thousands to rent cars online.
Customers in Nigeria, Ghana, Kenya, and Uganda can now use the Treepz app to browse and reserve vehicles, available for rental by the hour, day, week, or month.
The rented vehicles come with vetted and licensed drivers, providing even greater convenience. While Treepz suggests pricing, vehicle owners (hosts) have the power to set the final price, availability, and other terms.
About Treepz
Treepz is Africa's largest car-sharing and rental marketplace, offering a wide range of on-demand rental vehicles and seamless booking experiences to customers across Nigeria, Ghana, Kenya, and Uganda.
Founded in 2019, Treepz combines advanced technology, insurance coverage, and a trusted community of hosts and guests to create a reliable, convenient, and affordable platform for car rentals.
With a commitment to innovation and customer satisfaction, the car-sharing and rental marketplace is revolutionizing the mobility landscape in Africa.
Source: Techbuild.Africa