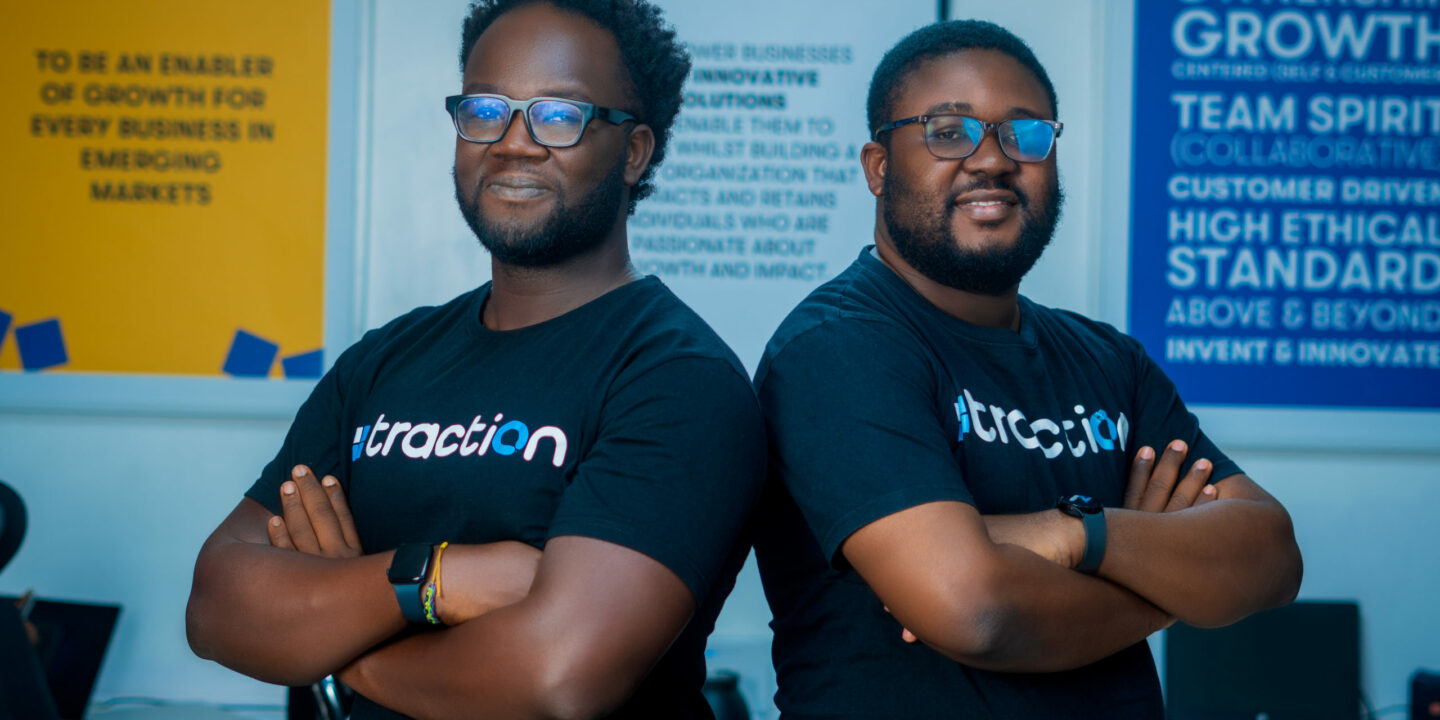 Source: Johnstone Kpilaakaa/ Benjamindada.com
Nigerian SMEs, especially those in the informal sector, often face challenges in accessing credit facilities, business tools and payment solutions due to stringent conditions imposed by traditional financial institutions.
A staggering 90% of retail payments are still conducted in cash. Remarkably, despite owning smartphones, most business owners continue to manage their operations on paper, thereby missing out on the opportunity to access formal financial services solutions. As a result, many businesses struggle to expand and capitalize on economies of scale, with some even facing liquidation despite having profitable business models.
Traction, Nigerian-based merchant solution platform, has developed a comprehensive one-stop platform to address these challenges faced by businesses. It enables businesses to accept payments, manage finances, and access essential operational tools.
With Traction, business owners can accept payments via POS terminals or virtual accounts, use point-of-sale software to record their sales, track inventory, and manage customers through CRM & loyalty solutions. Traction also oers a range of financial services, including merchant wallets, cash advance loans, savings, and bill payments.
To double down on its efforts, Traction has raised a $6 million seed round in funding led by Multiply Partners and Ventures Platform with participation from P1 Ventures amongst other investors.
The capital infusion aims to drive expansion, accelerate growth, and strengthen the company's team, as announced by Traction today.
"Our goal at Traction is to be the digital operating system for businesses on the
continent. We want to help them digitize their operations, efficiently manage finances, and make beer-informed decisions," says co-founder Mayowa Alli.
Traction is operating in the same space Square, StoneCo, and SumUp, using payments as an entry product to offer a wider range of services to merchants. According to a statement shared with Bendada.com, the company said it sets itself apart in the competitive merchant acquiring space by maintaining a dedicated focus on businesses, unlike many agent-led models attempting to pivot towards business services.
In 2022, Traction claimed that it recorded a 7x increase in revenue and an 8x surge in transactions while serving over 70,000 businesses in Nigeria. The company remains committed to sustaining this upward trajectory in Nigeria in 2023, as more businesses actively seek to digitise their payment processes and enhance overall operations, driven by valuable insights from the cash crunch and their aspirations for business expansion.
While the seed funding has been focused on scaling operations in Nigeria, Traction plans over the next 18 months to explore growth outside Nigeria either organically or through M&A.
Traction has since obtained its payments solution services license from the Central Bank of Nigeria allowing it to operate as a payment solution provider across various payment categories.
"Traction stands out as more than a payment processor, it is an indispensable growth partner to Nigerian SMEs. The company's industry-specific software, including its financial services marketplace, offers relevant business solutions, affordable capital, and insurance," says Dotun Olowoporoku, General Partner at Ventures Platform.