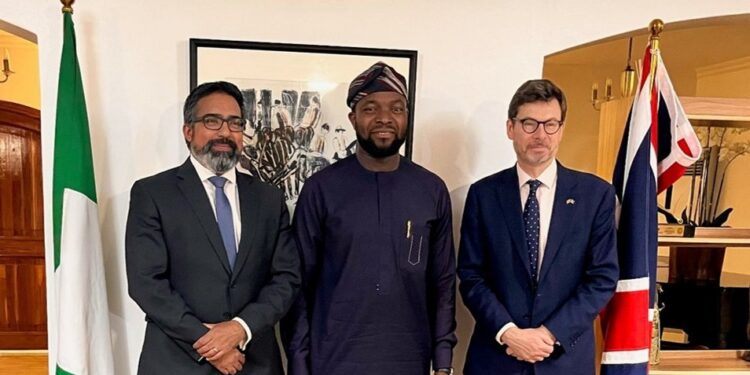 Source: Samson Akintaro/ Nairametrics
The government of the United Kingdom has announced plans to partner with the Nigerian government on Artificial Intelligence (AI) safety and security risks attached to the models.
The Director-General of the Foreign, Commonwealth & Development Office, Kumar Iyer, disclosed this during the Nigeria Innovation Summit (NIS) held in Lagos.
Addressing young Nigerian innovators at the event, Iyer noted that despite its benefits, AI comes with a lot of risks which innovators and governments must be cognizant of and take precautions.
According to him, non-state actors are now taking advantage of AI to launch attacks on states. He added AI has increased and improved the capabilities of terrorists in making weapons and launching cyber-attacks.
Stay informed and be the first to receive all the most recent updates directly in your email!
Tap here to subscribe to our newsletter for free!
Partnership with Nigeria
While noting that there is a need for global cooperation to around these concerns around AI, Iyer said:
"Only the UK cannot fight this, the only way to tackle these sorts of problems is through global cooperation. Unfortunately, no country has a monopoly on people who want to do bad things. And they do bad things across borders.
"We see the scope of AI in partnership here with Nigeria. The AI Safety Summit that the UK is convening on the first and second of November is the first time we'll look at international cooperation on those sorts of risks and those sorts of threats. And we see that as really important in the way that we work with our partners. We also think it's really important not to confuse those sorts of risks with the risks that arise from innovation.
"One of the areas that we will be working with Nigeria is specifically looking at AI and asking, how can we improve those datasets in education, health care, or agricultural diseases that are unique to Nigeria. Another area that we would want to work with Nigeria on is the area of AI safety and in particular, the security risks from frontier models."
AI is not new
Emphasizing AI has been around for quite a long time, Iyer said what has changed the technology is the generative AI and large language models.
"For those of you who will remember, the talks of driverless cars have been around for a long time. Predictive texting on your phone is an AI bot that helps do the predictive texting for you and it has been around for a long time.
"What's really happened as of late is generative AI and large language models have taken a real leap forward. And one of the things that we're looking at in the UK is how do we manage some of the risks around but let me say that the first thing that we're not doing, we're not setting up a large regulatory body, just for the UK on sector-specific risks," he said.
Iyer advised governments around the world not to jump into the regulation of AI but to adopt a measured approach to develop rules over a long time period.
Stay informed and be the first to receive all the most recent updates directly in your email!
Tap here to subscribe to our newsletter for free!