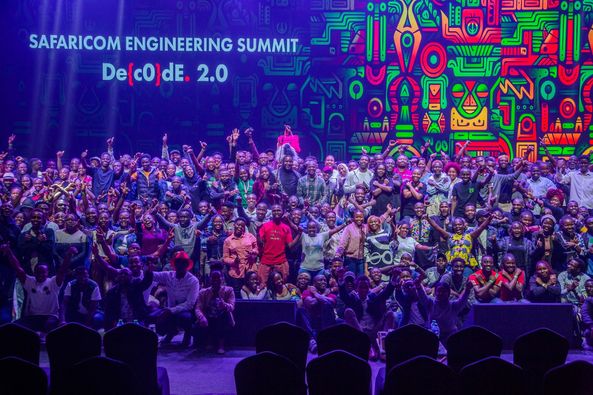 Source:  Diana Mutheu/ Techmoran
In a remarkable culmination of the second edition of the Safaricom Engineering Summit, held under the theme of "Igniting Africa's Digital Renaissance," Safaricom unveiled three groundbreaking platforms poised to revolutionize the tech landscape.
This two-day forum attracted over 800 in-person industry stakeholders and thousands more online, building upon the success of the inaugural event. 
Stay well-informed and be the very first to receive all the most recent updates directly in your email! Tap here to join now for free!
Among the initiatives showcased at the summit were 53 Safaricom campus tours, hackathons and nationwide Innovation Weeks, which have collectively graduated 617 individuals, thanks to the Industry Digital Talent Program.
Dubbed Safaricom Decode 2.0, this event transcends the boundaries of a conventional conference. It empowers Safaricom's engineers to not only display their technical prowess but also to foster connections with the wider tech community. 
Chief Executive Officer (CEO) of Safaricom, Peter Ndegwa emphasized the company's commitment to being the preferred Tech Partner for Digital and Creatives.
Mr Ndegwa stated, "Kenya is a youthful country with immense opportunities. By combining the power of tech and purpose, we intend to tap into the ability and skill set of the youth, supporting them to take full advantage of the digital space and gain immensely from it."
The highlight of the summit was the launch of three groundbreaking platforms by the telecom giant :
Safaricom Entertainment Hub: This platform serves as a centralized customer content hub, aggregating a wide array of Safaricom content, including video, music, gaming, education and more. It offers a one-stop shop with a seamless payment gateway for all forms of content.
Safaricom Developer Portal: A web-based platform, this portal serves as a central hub for software developers, offering essential resources and tools to streamline the development process, enhance efficiency, and maintain code quality and security as top priorities.
M-PESA Daraja API Gateway Developers Portal: This portal has been revamped with hybrid cloud architecture, offering superior API billing and monetization capabilities, self-service ticketing for API issues, and improved API documentation. These changes promise a better developer experience, with faster completion of customer and partner-initiated transactions.
The summit also showcased a demonstration of the Digital Twin, an AI-powered technology that creates lifelike digital replicas of humans in the form of audio or video, capable of responding to requests just like the actual person.
Stay well-informed and be the very first to receive all the most recent updates directly in your email! Tap here to join now for free!
The event was graced by the Head of Public Service, Felix Koskei, who recognized the potential for Safaricom and the tech community to support the government of Kenya in achieving its comprehensive digital agenda.
"The government seeks to transform the country's economy and society through technology, leveraging various digital platforms to enhance service delivery, transparency, and accountability."
Participants at the summit were treated to a showcase of Safaricom's engineering practices and products, particularly in Fintech. This included the Safaricom AWS Deep Racer experience, virtual reality demonstrations, games, and other innovations from partners and sponsors.
Safaricom claims it is committed to playing a pivotal role in Kenya's digital and tech ecosystem. With Safaricom Decode, "The company aims to empower the engineering community to showcase their exceptional skills, exchange knowledge on best practices, and solidify its position as a technology hub."
The Safaricom Engineering Community has experienced significant growth, now boasting over 5,000 members across Kenya. Safaricom's ambitious "Accelerate by Safaricom" program seeks to certify 1,400 members across various counties in various tech disciplines, with opportunities for internships and placements in the Industry Digital Talent Program for graduates.
Stay well-informed and be the very first to receive all the most recent updates directly in your email! Tap here to join now for free!
Source:  Diana Mutheu/ Techmoran