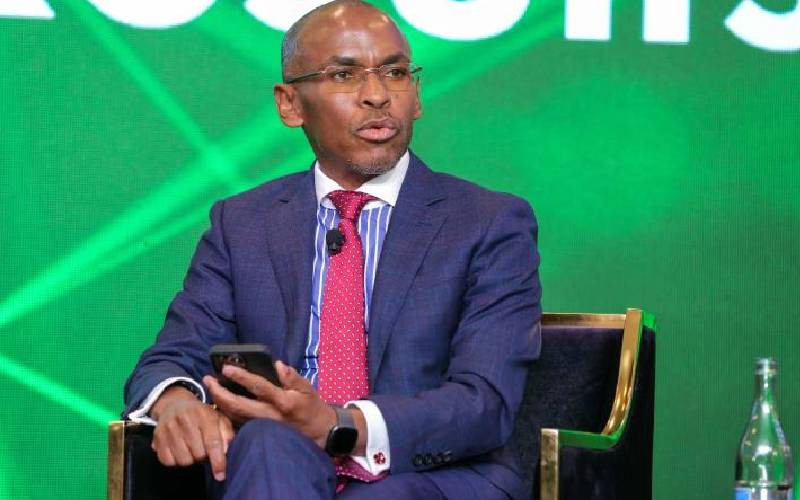 Source: Brian Ngugi/The Standard
Safaricom's plans to expand its Ethiopia operations have received a huge financial boost after the World Bank's private investment arm injected $257.4 million (Sh35.8 billion) into the consortium.
Under the deal, the International Finance Corporation (IFC) will invest Sh21.8 billion in exchange for a minority stake of 7.25 per cent, and a further Sh13.9 billion in form of a loan.
The Safaricom consortium includes British development finance agency CDC Group and Japan's Sumitomo Corporation.
Safaricom will still hold a majority stake of 51.67 per cent in the Ethiopia consortium after the new shareholding structure. It previously held a 55.71 per cent stake.
The consortium will also benefit from 10-year guarantees of $1 billion from the World Bank's Multilateral Investment Guarantee Agency (MIGA) to cover the equity investments of Safaricom Ethiopia's shareholders Vodafone Group, Vodacom, Safaricom and British International Investment.
"IFC will make a $157.4 million equity investment in Global Partnership for Ethiopia BV (GPE) and a $100 million A-loan to its wholly owned subsidiary, Safaricom Telecommunications Ethiopia Private Limited Company (Safaricom Ethiopia)," said the IFC in a statement.
Growth plans
The IFC war chest is a relief for Safaricom's Ethiopia growth plans coming soon after the parent company's earnings fell by a fifth in the year to March 31, hit by the cost of starting operations in Ethiopia.
"Ethiopia has a large, young and entrepreneurial population that can unlock the country's economic potential as we advance digitalisation," said Safaricom Ethiopia Chairman Michael Joseph in a statement.
"It is great to have the World Bank units with us as part of the international funding coalition behind Safaricom Ethiopia."
Safaricom launched its Ethiopia network last year and has already signed up over two million active users.
The telco is betting that the populous horn of Africa nation will power its growth after about five years of investment.
But the rollout costs of the Ethiopia network have been taking a toll on Safaricom.
"The investment and guarantees will help Safaricom Ethiopia roll out and operate 4G and 5G mobile networks across the country – including in rural and urban areas," said the IFC.
"Furthermore, under a license granted in May 2023 by the Central Bank of Ethiopia, Safaricom Ethiopia also plans to launch financial services in 2023 under the brand name M-pesa."
Safaricom plans to offer financial services by end of this year to boost growth by offering cashless transactions after getting a coveted mobile money license from Ethiopian regulators at a cost of $150 million (Sh20.8 billion).
Safaricom chief executive Peter Ndegwa welcomed the World Bank investment.
"The equity investment by IFC and the 10-year guarantees of $1 billion by MIGA is a show of confidence in Ethiopia as a viable growth market as well as in our business," he said.
Ethiopia's nascent telecoms sector is considered one of the most lucrative in the economy as the once inward-looking country opens up to foreign investment for the first time.
Replicate success
Safaricom would be seeking to replicate its M-Pesa success by allowing Ethiopians to sidestep an inefficient banking system and send money or make payments at the touch of a phone button.
As such, mobile money services such as M-Pesa are billed to have the potential to transform Ethiopia's economy.
"The Ethiopian telecommunications market — as well as the country's economy and society — will benefit substantially from equitable, high quality internet access and improved financial inclusion, advancing the country on a path to a more prosperous future," said IFC Vice President of Industries Mohamed Gouled.
The consortium had earlier inked a deal to take a Sh69.5 billion loan from a US state financier to help with acquisition and development costs.
The $500 million loan by the US International Development Finance Corporation, however, faced delays in its release.
The Safaricom consortium won the Ethiopia license in May 2021 with a bid of $850 million (Sh118 billion) for an initial period of 15 years.
Source: Brian Ngugi/The Standard