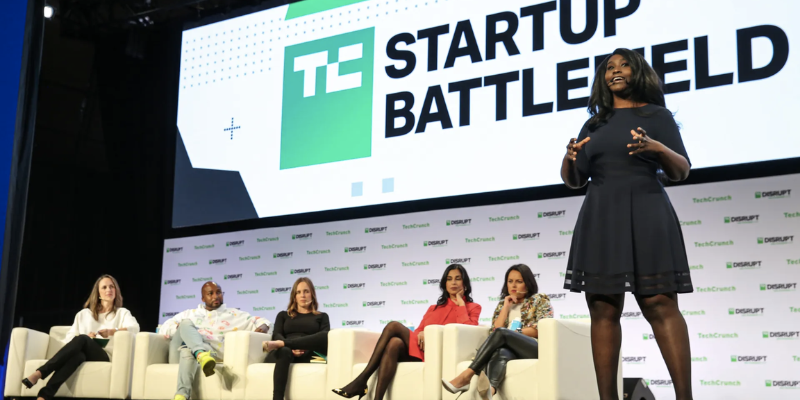 Source: Bolu Abiodun/ Techpoint
Co-founded by Ayobami Oyaleke, US-based fintech startup, Mainstack has made it into the league of the top 20 startups out of the 200 global startups competing for $100 thousand in equity-free funding at the TechCrunch Startup Battlefield competition.
A credible source told Techpoint Africa that the startup is the only Nigerian-led and possibly only African-founded startup that made it to the top 20 stage.
Mainstack is a fintech platform that helps entrepreneurs and creators showcase and accept payments from a global audience. It is a no-code API platform that assists them in creating a storefront, generating invoices, and managing bookings.
While the startup is US-based, it has a subsidiary in Nigeria. It raised an undisclosed pre-seed round in April 2023 and is currently raising a seed round. 
Techpoint Build PitchStorm winner
Before founding Mainstack, Oyaleke founded Placements.ng, a startup that created internship opportunities for Nigerians. The startup went on to win Techpoint Build's maiden startup competition, PitchStorm, in 2018.
Shortly after emerging as the first winner of PitchStorm, Oyaleke revealed that Placements had been shortlisted to participate in the Diaspora Demo Summit in Washington, DC, US.
Although Placements.ng doesn't exist anymore given that the domain is now for sale, about 2,000 organisations used the platform to recruit 5,000 interns.
Oyaleke has built four startups in the last 10 years, with two-year-old Mainstack — a Techstars 2023 New York alumni — being the latest.
Other Nigerian-led startups at TechCrunch Startup Battlefield 200
Although Mainstack is the only Nigerian-led startup that has made it to the final stage, TechCrunch Startup Battlefield 200 had a diverse array of Nigerian-led startups.
Some of these startups include:
Akowe
Founded by Ayodeji Agboola in 2020, Akowe is a startup that wants to use the power of blockchain to digitise the issuance and verification of certificates in Nigeria. Agboola told Techpoint Africa in February 2023 that, "In Nigeria, academic records are still manual and are issued as physical documents. There are also physical processes that make it difficult to verify the authenticity of these records."
Alusoft Technologies LTD
Alusoft is an edtech platform that creates products focused on helping students, schools and parents. The company's product, EduPorch, makes it possible for parents, schools, and students to interact seamlessly. 
Bus54
Bus54 is a mobility startup that wants to revolutionise bus transportation in Africa. The startup wants to do four things — make booking buses easier, provide a software platform for transporters, and financing to ensure access to efficient buses.
Famasi Africa
Famasi Africa is a startup that uses a software platform to connect individuals and businesses to pharmacies.
Source: Bolu Abiodun/ Techpoint