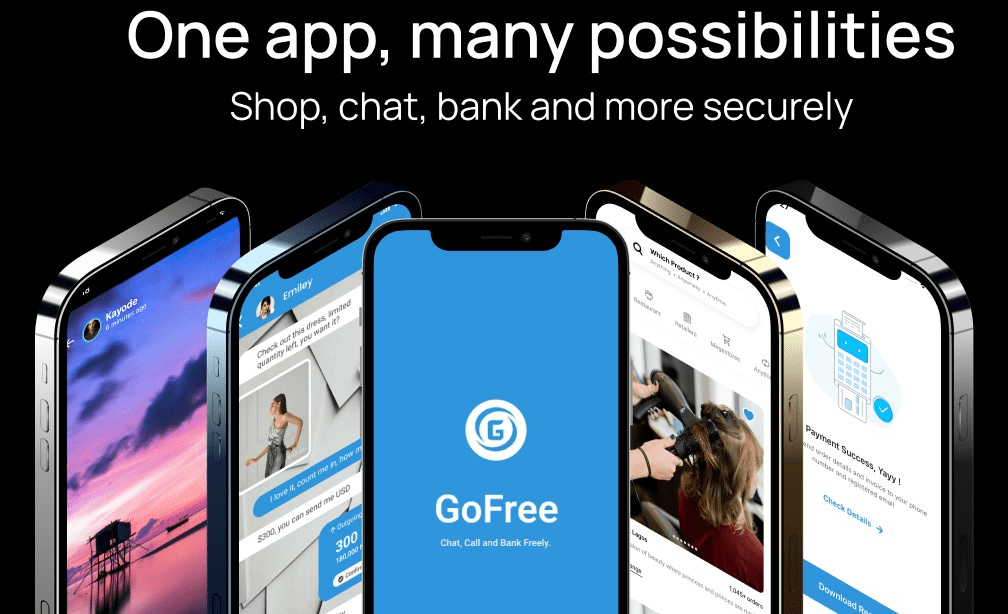 GoFree is a neobank that launched in April 2023. Despite entering a heavily saturated market, GoFree differentiates itself with a set of distinctive features. The app primarily targets Gen Z, Millennials, B2C players, SMEs, and startups.
In today's world, there are numerous fintechs offering similar services, each with its own unique twists. While some may argue that the fintech space is already crowded, there remains a significant gap between Africans and basic financial services.
Apart from the traditional services like money transfers, remittances, and bill payments, modern fintech platforms offer a wide range of innovative features. These include virtual USD/GBP accounts/cards and the ability to conveniently pay school fees. The possibilities in the fintech space continue to grow.
In addition to the standard payment capabilities, the app also allows users to collaborate and send messages. It is a comprehensive super app designed for individuals who want to efficiently manage both their professional and personal lives, similar to the immensely popular WeChat in China.
According to Technext, a GoFree user can chat with colleagues or family members, share documents as part of collaborations, send/receive money, and pay bills within one ecosystem. As this review's title suggests, it is an ambitious project that, at first glance, should be number one. 
GoFree's app is available for download on Gppfle PlayStore and the iOS store depending on the user's device. The app opens almost instantly and displays a white background containing the product's logo. Interestingly, new users can opt for an instructional video that explains how to properly sign up.
The registration process is quite enjoyable until the One Time Password (OTP) stage. To authenticate the account creation process, the user must request an OTP from GoFree.
Upon requesting an OTP, it took more than ten minutes to arrive. It is worth mentioning that many factors like bad network connection or server issues can negatively impact the early arrival of OTPs. However, ten minutes is a long time to wait for an OTP. After inputting the long-awaited OTP, the next step is customizing the user profile.
Here, the user can upload an existing photo or take a fresh one. They also have to type in a display name and a unique cash tag. GoFree advertises security as one of its app's strong points. When the security page opens, the user must register a new password. This can be a 4-digit code, fingerprint, or facial recognition.
At this stage, the app's dashboard reveals itself. Here, you can either opt to access more features by verifying the account or use the available features. Upon submitting the image of a National Identity Number (NIN) slip, the app stops and the process has to be restarted. Interestingly, this is not an isolated incident as some users have complained about this problem through reviews on Google Play Store.
Notably, the user can still access some important features without account verification. For instance, the chat section where users can chat with their contacts (and send or receive money in the process) can be used. As advertised, GoFree is built with some vital social media features. Users can post images with captions and also share lists with a limited lifespan commonly known as stories.
Users can create virtual and physical USD cards for $2 (+$1 authorization fee) and $3 (+$1 authorization fee) respectively. The virtual card has a monthly spending limit of $10,000 while physical cardholders can max out at $50,000. For clarity, the physical care feature is forthcoming. Meanwhile, some drawbacks exist. Users can not link their external accounts or debit/credit to GoFree for now. 
GoFree experiments with AI, a trend that the likes of Google, Open AI, Slack, Snapchat, and more companies have recently jumped on. It feels weird on a fintech app, but then again, the GoFree app claims to be more than just a platform for money transfers and remittances. In the Companion section, users can ask GoFree's AI assistant questions. They can also ask it to write essays and reports for them.
It can also help with research. Unfortunately, attempts to see the extent of the companion's capabilities were abortive. When given prompts, the AI simply responded with a box with the word "Companion" inscribed.  If this is a beta feature or one that is "coming soon" it should help to put an indicator.  
Following initial testing, GoFree's app has shown lots of potential. How it chooses to build on the product's initial offerings will affect it in the long run whether good or bad. Issues noted in the review like prolonged OTP arrival times and a problematic account verification process should be rectified.
If GoFree is keen on becoming a top choice for its target audience, then it must present a near-perfect app for usage.