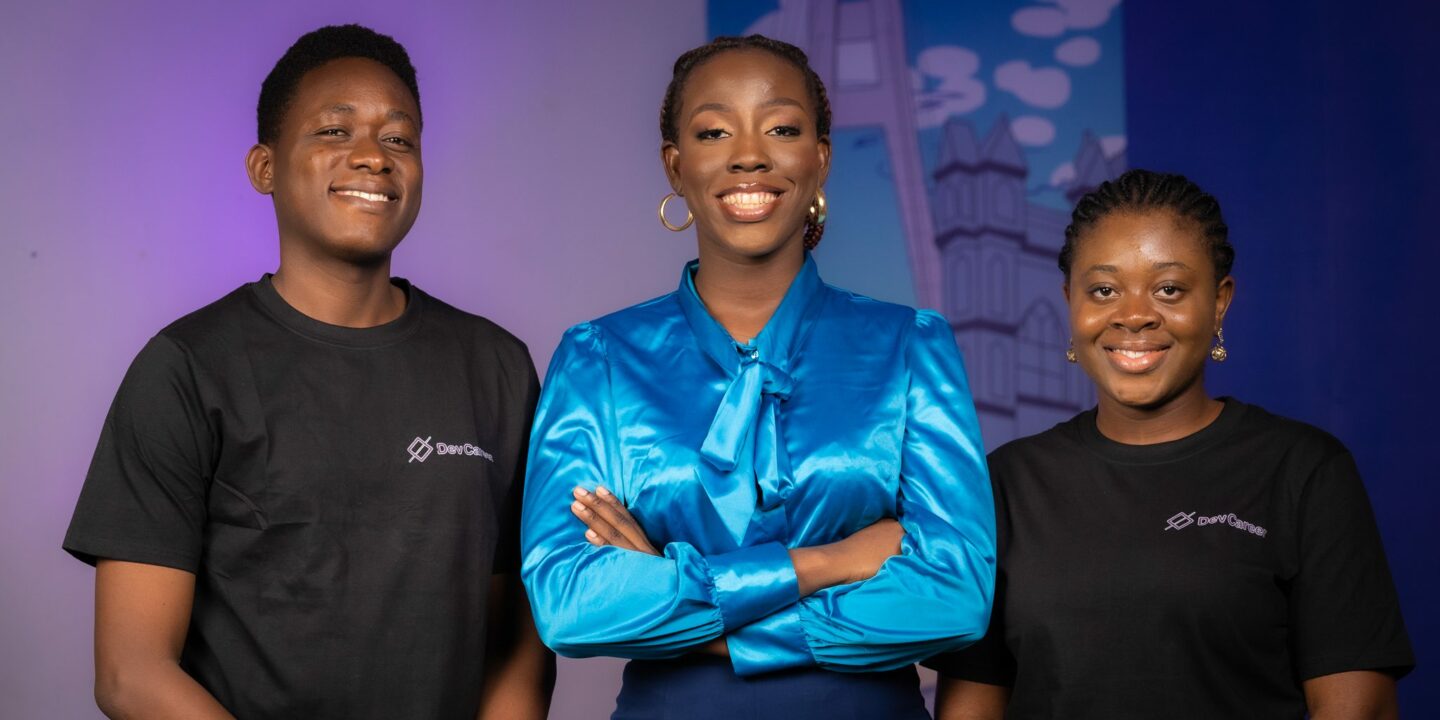 Source: Godfrey Elimian/Technext
DevCareer, a nonprofit organization focused on supporting young Africans looking to start a tech career, has announced a partnership with the UK- Nigeria Tech Hub, an initiative by the UK government's Department for Digital, Culture, Media, and Sports (DCMS) to support the growth of the Technology ecosystem in Nigeria.
The partnership between the two organisations would help to provide digital skills to 1700 Nigerians and prepare them for a career in the tech industry.
The 6-month training program will equip 1700 selected participants with in-demand skills in software development, design and product management. Through this, it aims to bridge the digital skills gap in the country. The program is also open to individuals from diverse backgrounds, ensuring inclusivity and equal access to opportunities.
Speaking on the partnership, Sultan Akintude, founder of DevCareer, stated that there was a need to provide indigenous support to everyone who could not get an opportunity like this and is happy the DevCareer Tech program would be doing that.
"We will go into remote areas to train and educate people about this partnership. Our goal is to make this opportunity as distributed as possible. If there's a chance that we can positively change the career trajectory of a particular group of people in any part of Nigeria, we're open to exploring that chance. With the support of the UK-Nigeria Tech Hub, we can further expand our support and accelerate growth."Sultan Akintunde
The programme stands out for its commitment to nurturing local talent and fostering digital inclusion in Nigeria. Through a blend of expert-led training, mentorship and hands-on projects, participants will gain the industry-relevant knowledge needed to launch their careers in Product Management, Software development, and Design.
DevCareer is a non-profit organisation focused on equipping the next generation of technologists and innovators. The organisation provides courses, structured curriculum, mentorship, laptops, and co-learning subscription, internet subscription – at zero cost to constrained new tech talent on a path to acquiring a new skill.
According to the Programme Manager of the UK Nigeria Tech Hub, Chisom Udemezue, the programme was designed to address the pressing issue of unemployment by bridging the digital skills gap and establishing a talent pipeline for tech startups.
By nurturing and connecting these talents with thriving entrepreneurial ventures, it says it aims to drive sustainable growth in the technology industry and contribute to the overall economic prosperity of Nigeria. Hence, interested applicants have been called to apply on DevCareer's website or directly on this link.
"We've championed our course through the Laptops4Developers boot camp, scholarship distribution, data stipend distribution, and playing with domestic and international organisations whose goals align with ours", the company says.
The UK-Nigeria Tech Hub, on the other hand, is a project of the UK Government's Department for Digital, Culture, Media, and Sports (DCMS) to aid in the expansion of Nigeria's technological ecosystem. The department works to stimulate inclusive and sustainable economic growth and employment, develop advanced digital skills, and create creative alliances between regional tech companies and foreign corporations.
Currently, DevCareer boasts an active community of over 16000+ members, a combined scholarship of 2000 awarded in varying programs, 172 interns trained and given a laptop in 3 cohorts, several of which have gone to work on-site and remotely in notable technology companies like Healthtracka, Flutterwave, Bento, and Plentywaka. It calls on tech enthusiasts to join its community.
Source: Godfrey Elimian/Technext